The Name Says It All....






SYSTEMS >










EuroDDSxATR
Every Saturday we publish each system's latest Tradestation® Performance Report so that you can follow the system's progress yourself.
This system looks for trend formation and once established will stay with the trend to attempt to take maximum profits. To protect profits the system enters each trade with two lots and will take profits on a single lot once a user defined profit target is reached. This system self-adjusts according to changes in market conditions.
Download Complete Performance Report
(Internet Explorer must be installed to view complete performance report. Download .zip file to the desktop; unzip and then double click on the .mht file)

System Name:
EuroDDSxATR
Features:
System Release Date - May 15, 2006
Friday's Weekly "EuroDDSxATR"
Tradestation® Performance Report: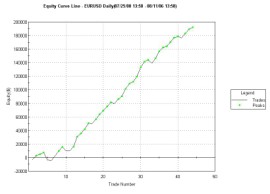 System Description:
System Name: EuroDDSxATR
Trades Euro vs. US Dollar (EUR/USD)
Mostly trend following
Self-adjusts to changing market conditions
Trades on Daily Chart
Trades on unique combination of new and traditional indicators
Average Monthly Return 293 pips
Greater overall profits means possibility of larger drawdown
Overall Profit Factor 11.45
Risk factor rated as moderate
Maximum Single Trade Run-up 1,529 pips
Maximum Single Trade Drawdown 515 pips
Appx. 83% winning trades
Enters each trade with 2 lots and takes profit on 1 lot to protect profits
Typical recovery time after drawdown 4 weeks
Recommended account size - full lots: $25,000.00; mini lots: $2,500.00
Stable and reliable system
© 2006 by Winning Forex Systems and Robert Martin Kissel; all rights reserved